| | |
| --- | --- |
| | Farabrew |
---
| | |
| --- | --- |
| | Dictionaries |
---
Dictionaries
Farabrew supports the creation and administration of several dictionaries with different foreign and user languages. As a foreign language currently only Hebrew is available; in the future, both Arabic and Farsi should be available as well. As a user language English, German, French and Russian are available.
Dictionaries can get downloaded from this website and be extended by the user. A modified dictionary can later get updated by a new version available for download without loss of new words or learn counters.
Dictionaries contain entries in one "foreign language" (e.g. Hebrew) and one or more "user languages". Currently the standard dictionary for Hebrew contain English as well as German translations.
Currently a Hebrew / English, German dictionary with over 5500 entries is available. It should get downloaded at the first use of Farabrew. An active internet connection is required for download.
New dictionaires:
Some Hebrew verbs and their conjugations (English translation only)
Experimental Russian dictionary (very few entries).
Download of dictionaries
Select "Dictionaries -> Update from Network" from the program's main menu. A window for dictionary update will appear.
In case your internet connection uses a proxy server, click "Set Proxy..." and enter your proxy server's settings.
Click "Get List". A list of available dictionaries on this website will be shown (see image).
For every dictionary that is to be downloaded and united with your own data, the check mark (to the very left) must be set. At the next update, entries for already downloaded dictionaries will be marked automatically.
After clicking "Update" the selected dictionaries will get downloaded and merged with your own data.
After download the selected dictionaries will be usable on the local system without internet connection.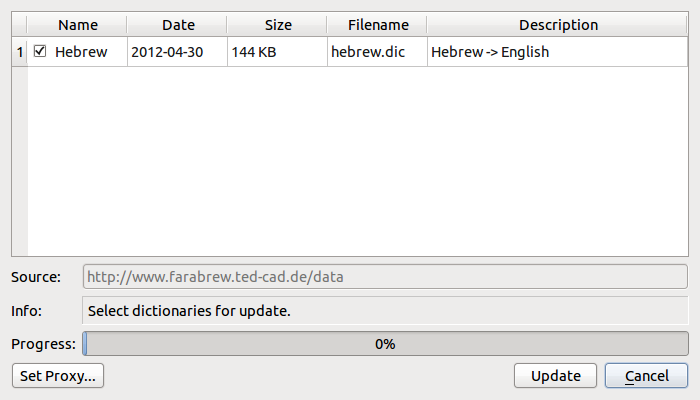 CAUTION: automatic update is a relatively new feature. To avoid loss of data (words entred by the user and learn counters) you should create a backup of your files! Your dictionaries are located in the directory where Farabrew was installed. File names end on ".dic".
Download from different websites
Instead of this website you can also enter a different address at "Source:". The indicated directory must contain a list of dictionaries available and the dictionaries themselves.
If you want to publish dictionaries on your own website, copy the file http://www.farabrew.de/data/dicts.dic and adjust the entries accordingly. dicts.dic and the dictionary files must be placed in the same directory.